A guide to strategic procurement and sourcing optimization
Organizations around the world are facing unprecedented challenges with supply chain disruptions threatening their future viability. As a result, procurement is increasingly becoming more influential in the overall business strategy in order to mitigate risk, create a competitive advantage and drive growth.
To navigate the future with confidence, manufacturing and distribution companies require a different set of skills, a new degree of agility and a more progressive mindset.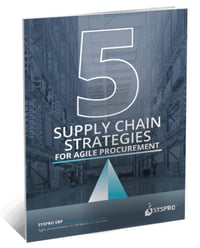 This eBook provides you with a number of strategies to help you and your organization be more prepared to manage supply chain disruption by:
Anticipating and planning for uncertainty
Ensuring end-to-end supply chain visibility
Embracing the limitless possibilities of digitalization
Building a robust procurement model
Diversifying your supplier base.
Simply fill out the form to download the guide.
Interested in taking your procurement system to the next level? A stand-alone program lacks the mission-critical quality of integration into the rest of your company's and supplier's systems. SYSPRO ERP's procurement solutions can help you to create a truly agile supply chain by streamlining your procurement, strategic sourcing and supplier management processes. Contact us to find out more about how SYSPRO can help.